Summary
Experimental recharge mechanism. Introduced energy weapons, which recharge from personal batteries!
Currently includes laser rifle, laser sniper rifle, laser shotgun, laser machine gun, mega laser cannon, chainsaw.
Usage
We have electric-powered laser turrets.
We have electric-powered personal laser defense equipment.
Now we also have electric-powered weapons!
Just craft these electric-powered weapons. No need to craft any ammo. Equip them in any gun slots, "ammo" (called charges in this mod) will be generated automatically!
This mod provides the following weapons:
Laser rifle.
Laser sniper rifle.
Laser shotgun.
Laser machine gun.
Mega laser cannon.
Chainsaw.
Recharging
Note that the charges do not come for free! Each charge costs energy, and energy is taken from personal batteries in the armor grid. You will need at least one personal battery equipped for these weapons to recharge.
Normally, these recharging will take place automatically, whenever guns are (un-)equipped or ammo are drained. But in case charges are not full (e.g., after ran out of battery), you can always do a manual recharge by clicking on the shortcut "Recharge energy weapons".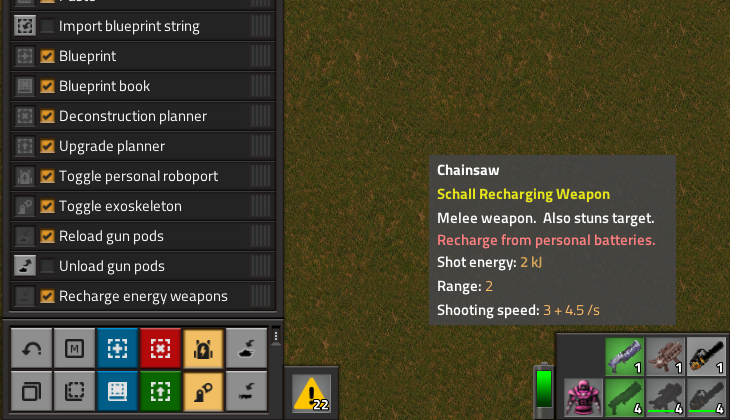 Energy required for various weapons are different, as shown by "Shot energy" in the weapon info panel.
For example, chainsaw uses only 2 kJ per attack, so can easily powered by a portable solar panel; while heavier guns can take like 5 MJ per shot.
So be sure to equip more personal batteries or bring some backup ammo weapons, if you plan to use them a lot or for sustained combat.
For more details and stats of the weapons, please see the FAQ section.
Mods Supported
Guns from other mods are also using this recharge mechanism, including:
To fellow modders:
To modify your guns to also be charged through this mechanism, please see the FAQ section on instructions.
Please let me know if you have done so, I will happily add your mod to the above list.
Uninstallation
This mod do not modify the existing content in the save game. This mod should be safe to be disabled/uninstalled at any time.
Mods Dependencies
Schall Primary Battery is optional but recommended, since it has introduced primary batteries for the early game. They would be useful to power up your recharging weapons, before portable fusion generators come into play.
Schall Starting Inventory is optional but useful, since it allows adjusting starting invenotry, like a laser rifle as initial item.
Mods Related
Schall Alien Mutation has introduced some laser-resistant against these new laser weapons. You would need them for some challenges, do you?
Schall Endgame Evolution has introduced some stronger aliens at the endgame. They would make excellent targets (or as predators...) for your new toys.
Schall Alien Tech has introduced another two Doom weapons: plasma rifle and BFG 9000, though they are "ordinary" weapons that operate on ammo.
Locale Supported
English (en)
German / Deutsch (de)
Traditional Chinese / 正體中文 (zh-TW)
Simplified Chinese / 简体中文 (zh-CN)
Brazilian Portuguese / Português Brasileiro (pt-BR) by NickFury23
Russian / Русский (ru) by Dragonling
Non-English locale are provided by Schall Language Pack.
If you like this mod, and would like to provide other translations, please do not hesitate to send me a message.
Credits
Tribute to the classic game Doom. Graphics and sound effects of chainsaw are materials extracted from the game.
Tribute to the classic game "UFO: Enemy Unknown" (aka. X-COM: UFO Defense). Graphics of laser rifle, laser machine gun, and mega laser cannon are materials extracted from the game.
Credit to Final Mod Pack of the open-source game OpenXcom. Graphics of laser sniper rifle and laser shotgun are materials derived from the mod, permission granted by Solarius Scorch. More details in FAQ section.
My Other Mods