Summary
Assist train organizations and dispatches.
Adds a GUI listing idling and stalled trains (or other customizable filters). Displays train status, for easy and quick schedule inspection and assignment.
Usage
The GUI provided by this mod will display trains that requires your attention. This will save you a lot of time to determine and locate trains that get stuck for whatever reasons.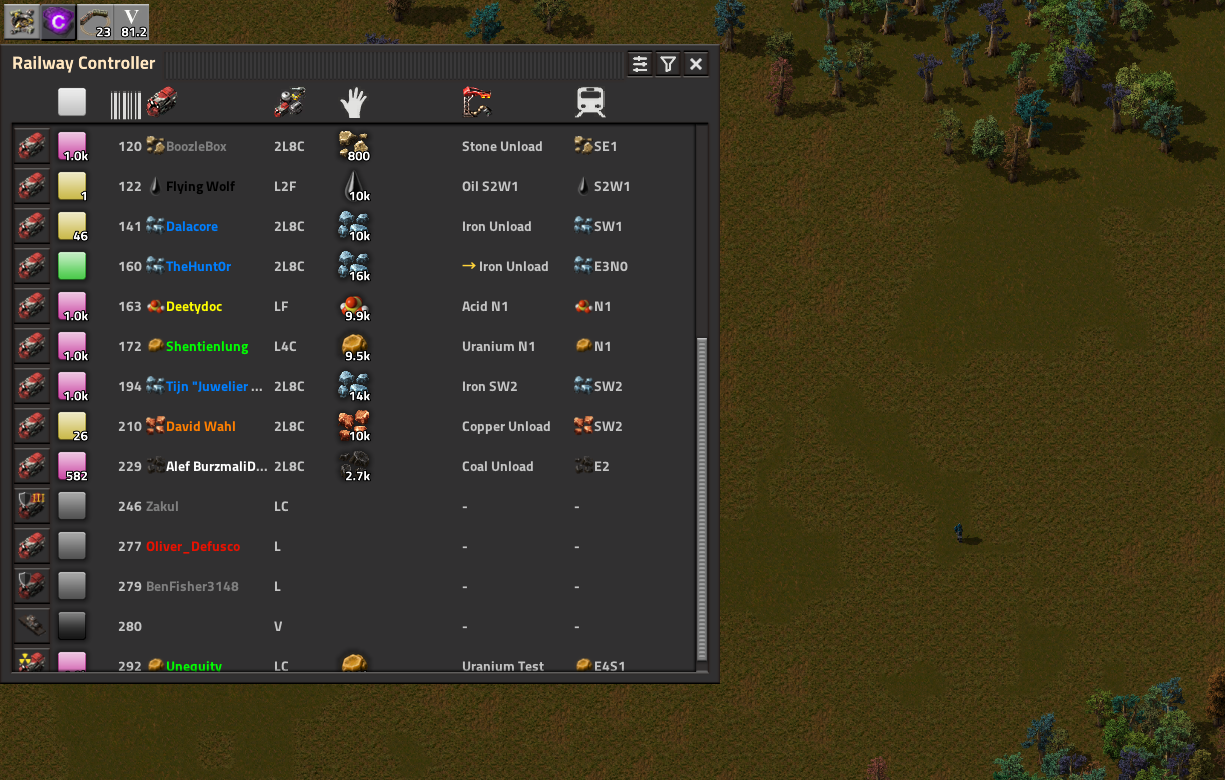 You can choose to display all trains, or save up part of the screen by narrowing down the list. Applicable filter conditions includes:
- Status
- Surface located
- Name of (leading) locomotive
- Type of carriages
- Item contents
- Fluid contents
- Name of (next) station
- Name of line
- Any combinations of above
The buttons and filters can be re-hidden again, to save screen space.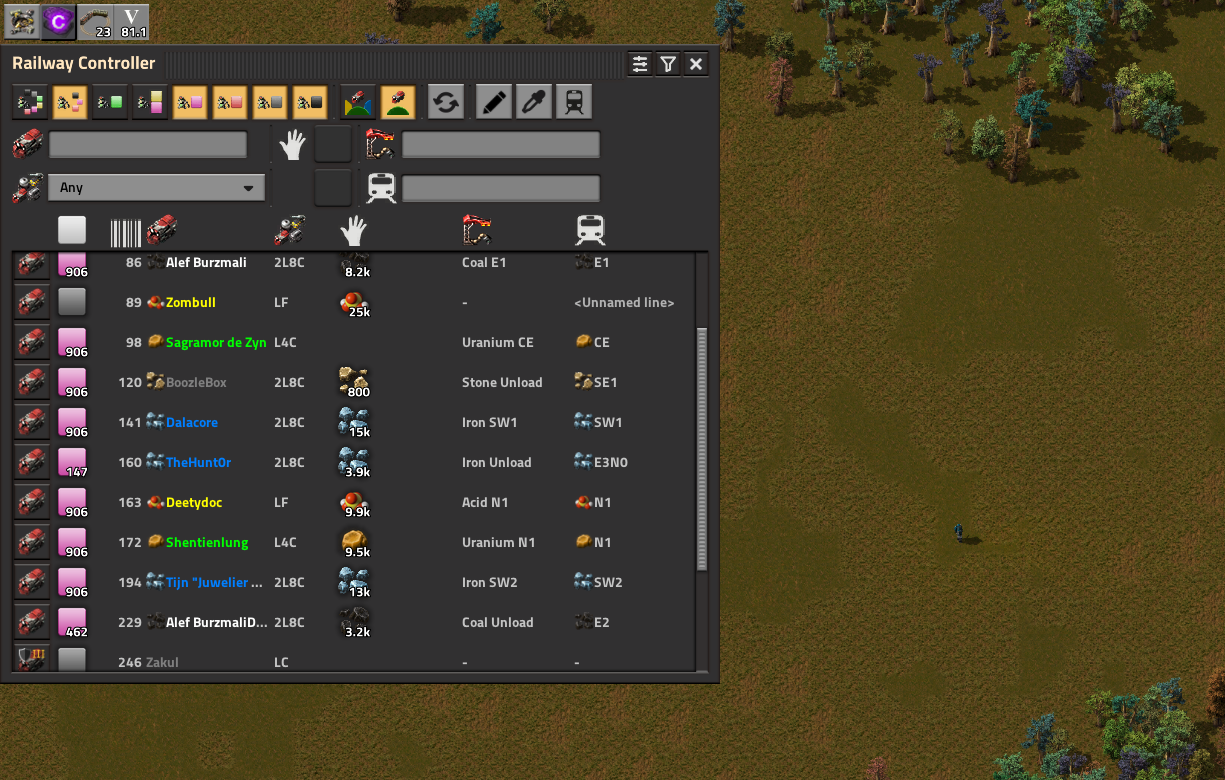 This mod also allows editing train (leading locomotive) names, colours and lines, in an easy and quick fashion. You can name them and save as template for later uses and batch apply to other trains.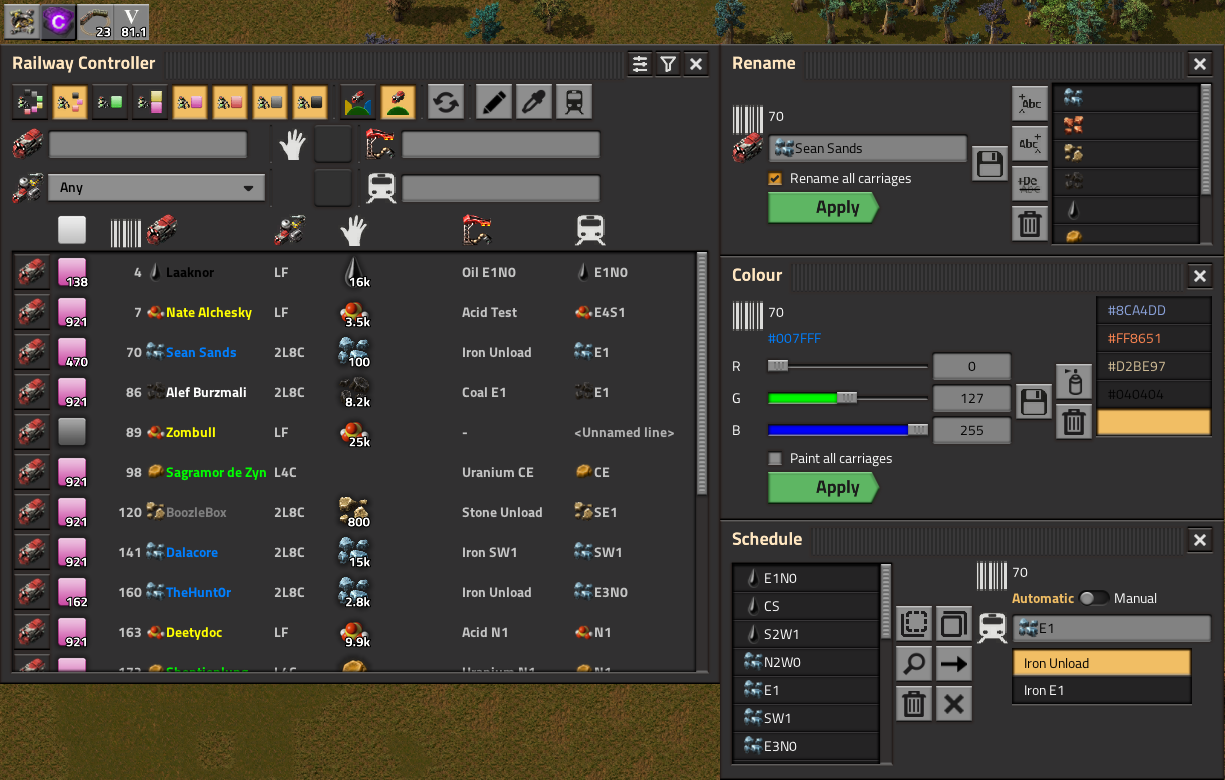 For more details (like status code, layout notations), please read the FAQ section! The user guide is also included.
Uninstallation
This mod adds GUI into the save game, but should be automatically removed upon disable/uninstallation.
Planned Features
More train layout notations: The three notations (plus all the locomotive direction and connection sign combinations) provided by this mod are sufficient for my own use, but various users (like you) can prefer to use your own set of notations. Feel free to provide the name of your favourite notation, and all the rules and needed details to make it work in Discussion section!
Extra style set of train status sprites: For colour-weak, colour-blind users, or users who prefers meaningful logos instead of simple colours. Suggestions or even directly sprites are welcomed. Please post them in Discussion section!
View train details in a new GUI.
Mods Related
Mods Compatibility
This mod uses entity types to distinguish locomotives, cargo wagons, fluid wagons, and artillery wagons. Even different variants of them should be of these types, so in principle they should all be compatible.
Mods Supported
Vehicle Wagon 2 is supported. The vehicle wagons uses a special symbol "V" in the train layouts.
Locale Supported
English (en)
German / Deutsch (de)
Traditional Chinese / 正體中文 (zh-TW)
Simplified Chinese / 简体中文 (zh-CN)
Brazilian Portuguese / Português Brasileiro (pt-BR) by NickFury23
Non-English locale are provided by Schall Language Pack.
If you like this mod, and would like to provide other translations, please do not hesitate to send me a message.
My Other Mods