Summary
Dead aliens are now good aliens! Dead aliens will pay for your base defense! On their death, they bring back the 0.14 alien artifact. They also drop alien ores as loots, which can be morphed into ordinary ores like iron ore. Also adds alien science pack that can be used for research in other tech mods. Well-suited for combat-heavy, no-mining scenarios.
Introduction
Currently there are no benefits from killing aliens, so no motivation in combat?
Want to get loots from combat, like in RPG?
Want the alien artifact from good old 0.14 comes back?
Now this mod fulfills all your wishes!
Dead aliens will pay for your base defense! They will make your base great again!
Not only alien artifacts are dropped by spawners, but all aliens (biters, spitters, worms, spawners) drop some loots! All of these can be individually turned off or adjusted if you think there are too much (or too few) loots though! (See the option details in FAQ.)
Alien Artifact
Now not only spawners drop alien artifact, but from behemoth biters, behemoth spitters, big worms as well. (Adjustable in options.) Alien artifact can be crafted into alien science packs (like in 0.14). Apart from that, this mod allows them the ability to morph into various ores, like iron ore that your base always needs badly.
Alien Ores
There are 3 tiers (grades) of alien ores. The more dangerous aliens drop better alien ores, both in quality and quantity. Alien ores can all be morphed into various ores, converting into ores that your base needs. Better alien ores can morph to better ore (uranium ore, iron ore) in more favourable rate, or even to alien science pack if you badly need that for more science. Low tier alien ore is best in morphing into coal and stone.
Alien Science Pack
The alien science pack is the advanced science pack in 0.14 and before (which splits into production, military and high-tech science pack since 0.15). It is crafted from alien artifact (like in 0.14), or from high tier alien ore at a worse rate.
Currently there is no use of alien science pack with this mod alone, but is used by Schall Alien Tech mod. It provides alternate weapon choices, and extends the gameplay beyond rocket launch!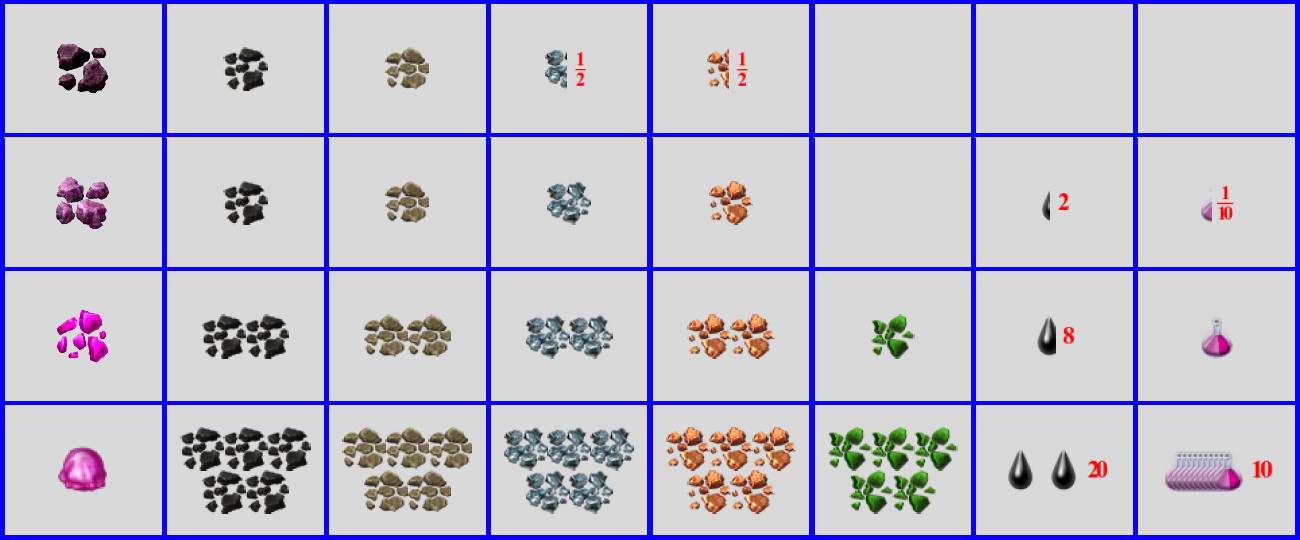 For details about drop rate, conversion rate, and option settings, please see the FAQ section.
If there are any tech mods using this alien science pack, you can also send a message to me here. I will list them below.
Uninstallation
This mod do not modify the existing content other than an extra slot for alien science pack in labs, although it is safe in the save game. This mod should be safe to be disabled/uninstalled at any time.
Mods Dependencies
Mods Related
Mods Compatibility
If there is another mod overwriting (instead of inserting) the loot table of alien units (which is a bad programming practice anyway) and it loads after my mod, loot drops from this mod may get overwritten.
This mod uses "biter", "spitter", "worm" and "spawner" in their names to find the alien units, non-matching names are not considered. Text like "small", "medium", "big", "behemoth" in their names are used to classify the loot tier.
0.17.6 onwards has provided an interface for other mods to add any units with loot table, so any units not classified by either of these are all considered to no loots at all.
Mods Supported
Some mods have already registered the name patterns in this mod, including:
To fellow modders:
0.17.6 onwards has provided an interface for other mods to add any units into loot tiers, automatically assigned with the appropriate amount of loots.
To add your units with loot tiers, please see the FAQ section on instructions.
An alternate way is to provide me the needed name patterns (with desired loot tiers) in the Discussion section. I will include them into the code.
Note that EITHER of the above is enough to get things working. You can pick what you feel most suited to your mods.
0.17.10 onwards has provided public function SchallAlienLoot_add_morph_recipes() to add recipes for various morph products. Please see FAQ section on instructions.
Locale Supported
Non-English locale are provided by Schall Language Pack.
The partial translations are mostly from 0.14 locale file. I have no knowledge about those languages by myself. Feel free to submit translations of any languages in Discussion section.
If you like this mod, and would like to provide translations, please do not hesitate to send me a message. (Corrections on spelling and grammatical mistakes are welcomed as well.)
My Other Mods