Short description of this mod(pack):
Adds 4 brand new tiers of electric mining drills with their relative techs, to speed up your production with some useful base-production buffs.
The tiers are based on your progression in the game, and each of them has a base buff that can be stacked with the mining-productivity research:
Base Buffs for each tier:
Mk2: 12,5%
Mk3: 25,0%
Mk4: 35,0%
Mk5: 50,0%
Mk6: 75,0%
With Mining-Productivity 4:
Mk2: 52,5%
Mk3: 65,0%
Mk4: 75,0%
Mk5: 100%
Mk5: 125%
You can add productivity updates too if you want.
The number of module slots grows for each tier.
Their speed:
Mk2: 0.75/s
Mk3: 1.00/s
Mk4: 1.25/s
Mk5: 1.50/s
Mk5: 2.00/s
How do you like to craft them?
You can directly craft each mining drill. However, to not waste the old ones when you research a new tier, there are some "recursive" craftings with which you can "upgrade" them (mk1 to mk2, mk2 to mk3...).
It works for burner drills too.
Direct or Upgrade?
Direct Crafting: Faster Crafting - Easier to produce
(Useful if you need them a determinate amount to create a setup)
Upgrading: Drill recycling - Cheaper recipes - Longer to make
(Needs to be fully authomated from the beginning in order to save a good amount of resources)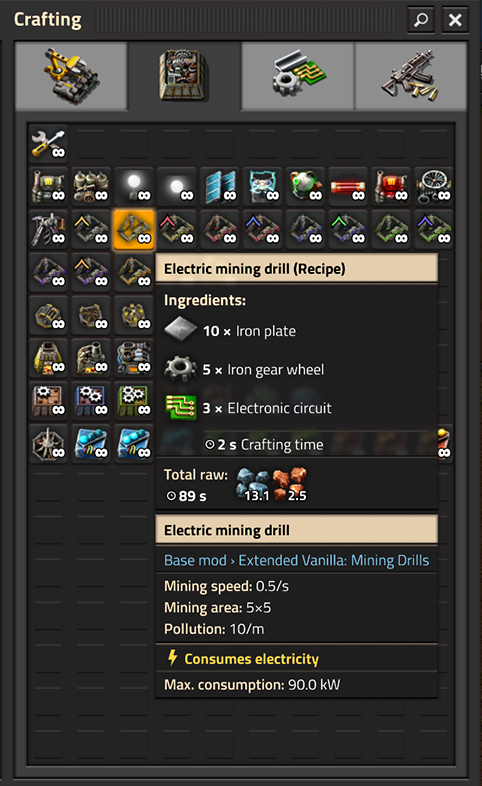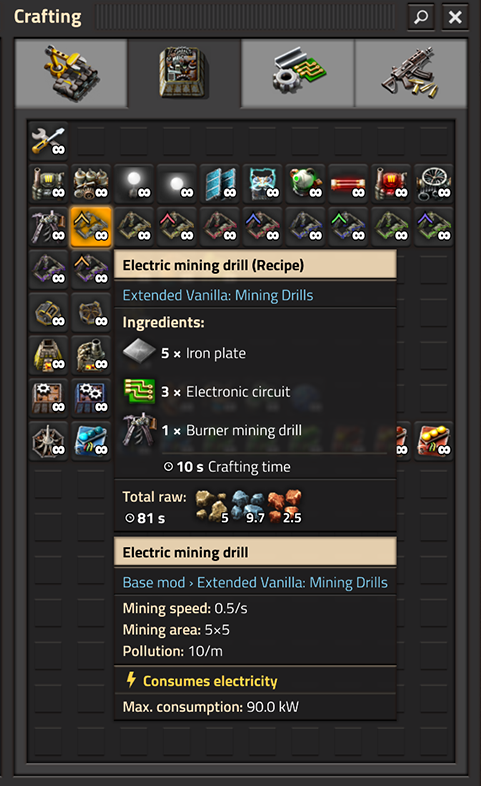 Balancing these drills is not as easy as I thought, so I'd be thankful to see what you think about them on both discord and the comment section.
If your production isn't enough yet, the mod Extended Vanilla: Ores & Refining can help you.
Since this mod(pack) has not a forum page, you can follow me on my discord server where you can tell me your idea and/or any suggestion on my mods.
On that forum you can find a dedicated section on all the mods/modpacks on which i'm currently working too.
---
Projects:
Quarries implementation (machines that extract ores without a patch)
Drill variants (Size and Productivity are the keys)
Intermediates overhaul (See the mod list below)
Make the mod all customizable
---
Support:
Yes, now you can directly support me and my creations if you really like them, and I'll give you something too for your contribution!
---
The Extended Vanilla Modpack:
These mods are meant to be no-game-changing / helper mods, however:
With the release of the "Intermediates" mods I'm going to change:
The ores' and metals' number, production and processing;
(more intermediate products and passages for obtaining ores and plates)
The electronics itself;
(more tiers of circuits and some other electric stuff)
The vanilla tech three.
What I'm planning to do:
The single mods will still be playable in the normal vanilla as NO-game-changing;
The new mods will be added as optional dependencies and will OVERHAUL them.
(Similar to how the old FactorioPlus modpack was in the past 0.15)
The new mods will be first launched as alphas, with a content that will be subsequently expanded.
---
A complete list of the mods on which I'm currently working: (Latest update: 07 December 2020)
Machines:
Extended Vanilla: Logistics - Coming this Winter!
Extended Vanilla: Machines & Assembling - Coming this Winter!
Extended Vanilla: Green & Biotech - Coming this Winter!
Extended Vanilla: Omega Expansion - Coming this Winter!
Intermediates:
Extended Vanilla: Electronics - Coming this Winter!
Extended Vanilla: Metals & Processing - Coming this Winter!
Military & Armor:
Extended Vanilla: Military - Coming this Winter!
---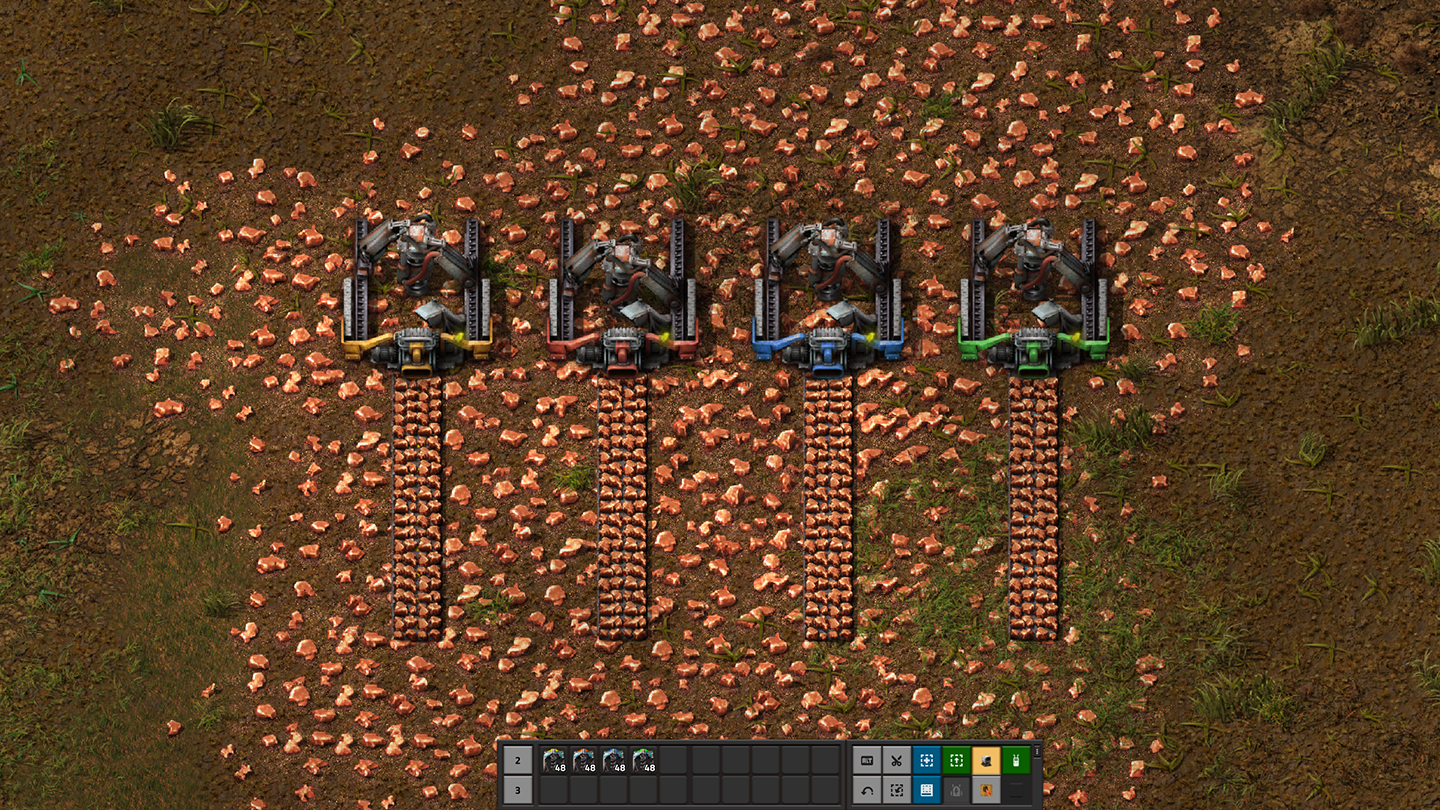 ---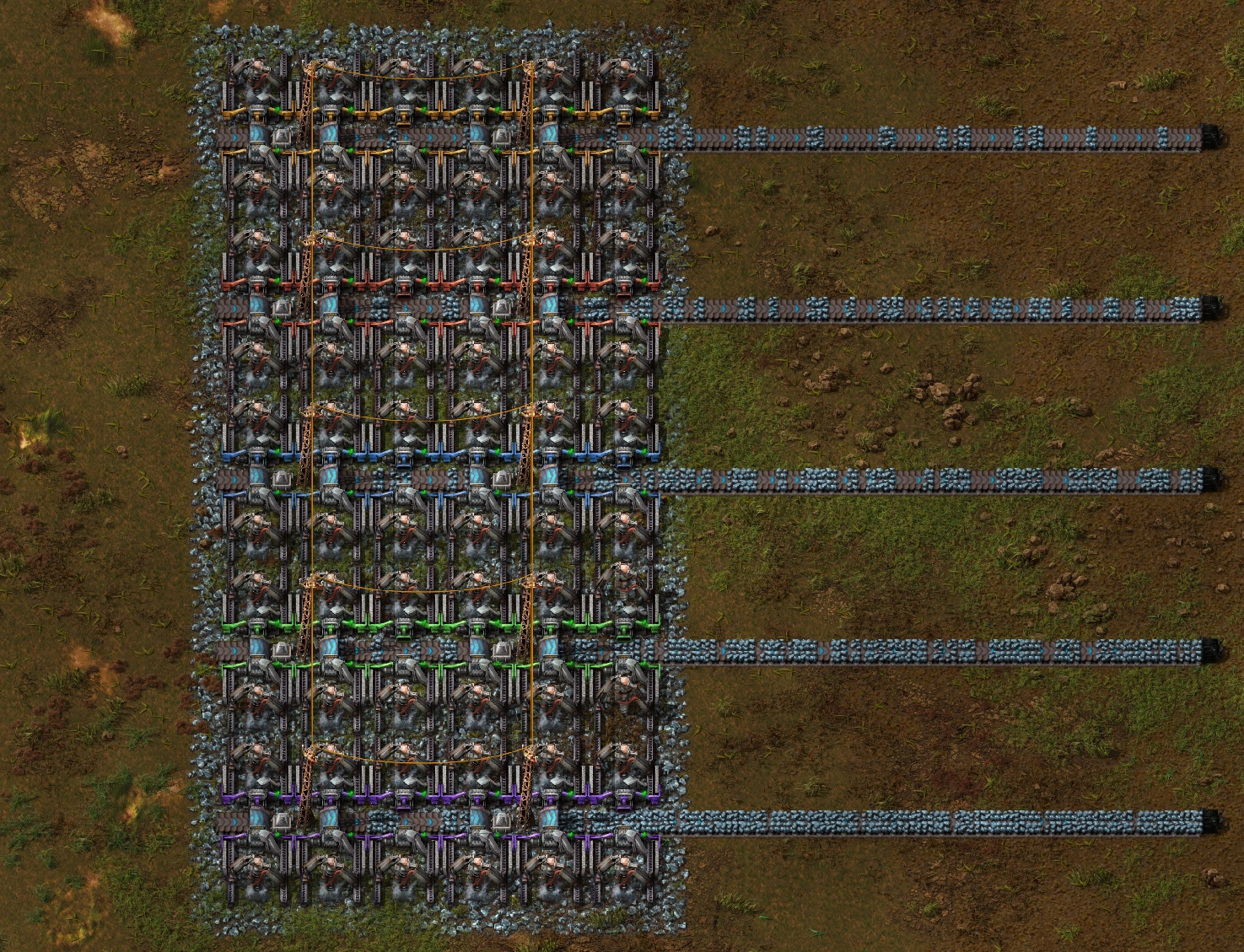 The complessive production of each tier with 50% Mining speed production boost.
---
FactorioPlus 2 Modpack:
Do you remember the old modpack for 0.15, that consisted on plates and alloys, refinering and multiple ores?
Well, by the end of the next month (September 2020) I'll rework it for the newest version of the game, so If you want to tell me something (Ideas and suggestions, for example or what you liked/disliked of the old modpack - if you where there and remember it xD), you're welcome to enter in my discord server; see you and stay tuned!
---
Known issues: