ERM_Terran
Add Terran units as controllable unit for players. They take friendly fire from players. MOVE THEM AWAY from explosives and fire turrets. Some units are expensive. They can be repaired with repair kit. Utilize them with your construction bots. :)
This mod is created as a player controllable combat units demo for Enemy Race Manager
Discord: https://discord.gg/BwWXygyEyQ
ERM - Features Reel: https://www.youtube.com/watch?v=phLRReAjxHA
Unit Limit: There isn't a hard limit on the number of units you can have. However, each 1000 units take about 1ms out of 16ms UPS budget on an Intel 8600K. So your mile may vary. However, I suggest to use 1000 units as soft cap. That's already 5x more than 200 unit cap in original game. ;)
Licenses
Lua code files are licensed under GNU LGPLv3.
However, Starcraft graphic and sound assets are properties of Blizzard Entertainment Inc. They are used for educational purposes. The original game is now free to play.
Youtube: https://www.youtube.com/watch?v=pcrFmtvNYTU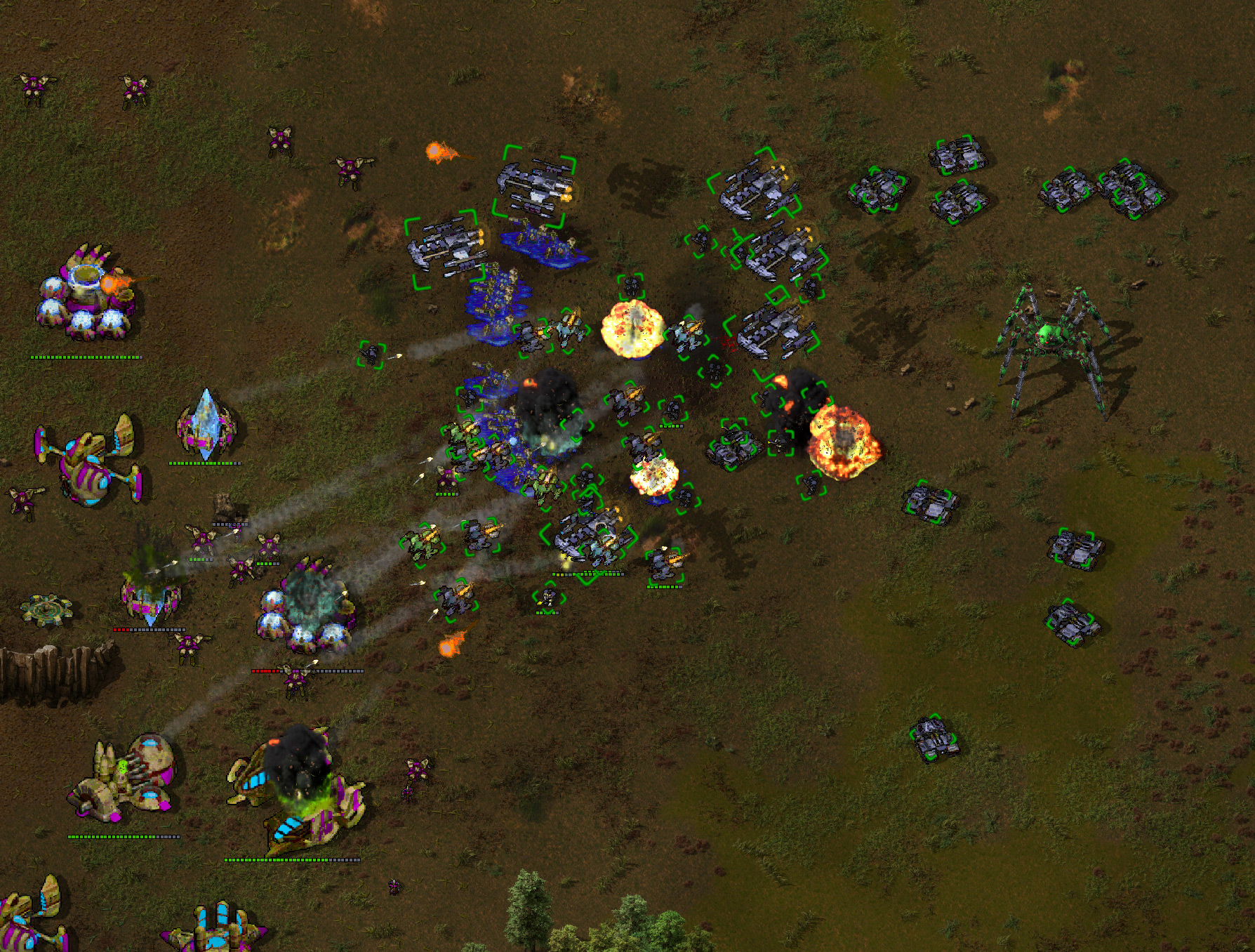 Requirement
Enemy Race Manager >= 1.7
Factorio Standard Library >= 1.4.6
Unit Control >= 0.2.4
Factorio Base >= 1.1
Using "Unit Control"
You can select the unit using shortcut or Alt + left mouse click to enable selector, or Shift + Alt + left mouse click to select ALL units.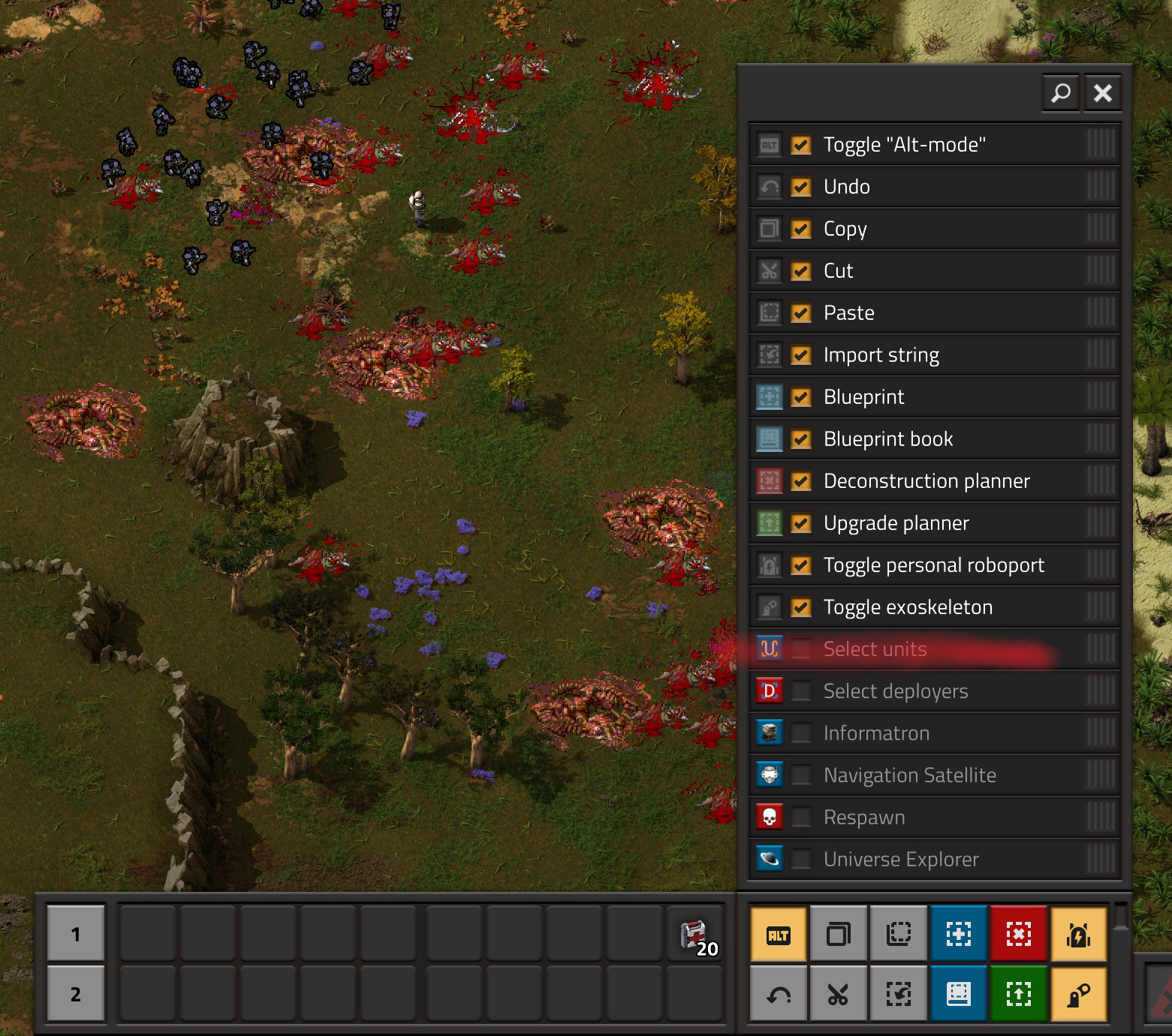 Features
This demo feature 4 unique units. Damage researches enhanced these units' damage as well.
Marine MK1
Health 300
Resistance 30
Damage
Marine MK2
Health 500
Resistance 50
Damage
Marine MK3
Health 750
Resistance 70
Damage
Tank
Health 2500
Resistance 75
Cannon Damage

100 physical, on target
100 explosive ground units, 5 area AOE
50 explosive, all units, 2 area AOE
Tank MK 2
Health 3500
Resistance 75
Cannon Damage

200 physical, on target
200 explosive ground units, 5 area AOE
100 explosive, all units, 2 area AOE
Wairth
Health 2000
Resistance 75
Rocket Damage

50 physical, on target
150 explosive, all units, 3 area AOE
Scout Wairth
Health 2000
Resistance 75
Flies at 100KM/h
Rocket Damage
50 physical, on target
150 explosive, all units, 3 area AOE
Cold Wairth
Health 2000
Resistance 75
Rocket Damage

50 physical, on target
150 cold, all units, 3 area AOE
Acid Wairth
Health 2000
Resistance 75
Rocket Damage

50 physical, on target
150 acid, all units, 3 area AOE
Battlecruiser (Laser Turret)
Health 3500
Resistance 75
Cannon Damage
250 laser, on target
Battlecruiser (Yamato Cannon)
Health 5000
Resistance 75
Cannon Damage

750 laser, on target
125 explosion, all units, 3 area AOE
125 electric, all units, 3 area AOE