Configure different presets for your logistic request and auto-trash slots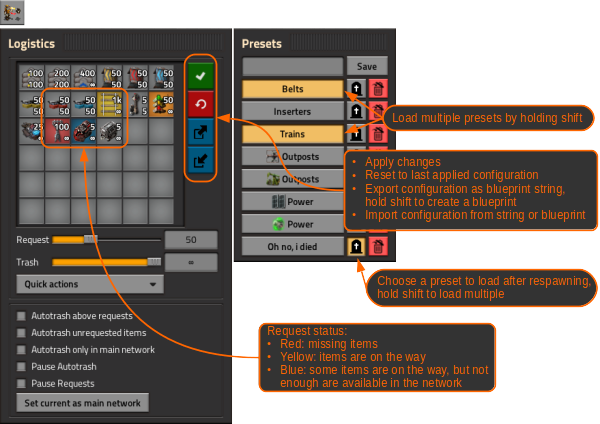 Features:
Configure request and trash settings in one window
Save and load multiple presets
Export/Import the configuration and presets (as a string or blueprint/book)
Display the requests status:

Red: missing items
Yellow: items are on the way
Blue: some items are on the way, but not enough are available

Pause requests when dying
Load one or more preset after respawning
Trash unrequested items
Pause autotrash when not in certain networks
Pause requests/auto-trash individually
Shift click configured items in the gui to quickly reorder them:

Notes:
This mod may change your vanilla Logistic and Auto Trash slots at any time (depending on your settings), so i suggest to configure them only in the mods gui if you don't want to loose your changes
Export/Import: I suggest to keep the created strings as a blueprint in the blueprint library. If you have modded items configured and import the string in a save without these items you might even loose items that are still available. Importing from a blueprint from the library will only remove the missing items, keeping everything else intact.
Hotkeys:
Shift + P: Pauses Autotrash
Shift + O: Pause logistic requests
Shift + T: Add item on cursor to temporary trash. Pause/Unpause Autotrash if cursor is empty
Control + L: Toggle AutoTrash gui
Unbound: Toggle trashing of unrequested items
Commands:
/at_import - Import the vanilla request and trash settings into the mod gui:
/at_reset - Reset gui
/at_compress - Removes empty rows in the logistics configuratuon gui
/at_insert_row <number> - Add an empty row after row #<number>, e.g. /at_insert_row 2 - Inserts an empty row after row #2
Todo:
Temporary requests
Order blueprint items