| | |
| --- | --- |
| Created: | 1 year, 4 days ago |
| Latest Version: | 0.16.50 (21 days ago) |
| Factorio version: | 0.16 |
| Downloaded: | 16378 times |



















More Bobs! (Bob's Mod Add-on)
I will be back after version 0.17
Included mod
More Shinybobs!
Bob's Mods : Alternate Textures

This mod is a mod to complement the items not supported by Shiny series of Zombiee and qumojo.
qumojo provided some graphics. (thx qumojo)

Below is an example of a combat category(Laser bot).





All list:
http://cfile30.uf.tistory.com/image/9970D34D5AE2E92217C2B0
http://cfile10.uf.tistory.com/image/998BEC4D5AE2E923395275
http://cfile22.uf.tistory.com/image/99EB7F4D5AE2E92409C1C7
http://cfile8.uf.tistory.com/image/99D8214D5AE2E9240B61A4
http://cfile29.uf.tistory.com/image/9911834D5AE2E92524BE22
http://cfile2.uf.tistory.com/image/99C0B64D5AE2E926326767
http://cfile27.uf.tistory.com/image/99EDEE4D5AE2E9260944C8
http://cfile3.uf.tistory.com/image/9939984A5AE2E9272F9D60
http://cfile30.uf.tistory.com/image/9912844A5AE2E92835B757
http://cfile10.uf.tistory.com/image/9967B64A5AE2E928283E13
http://cfile28.uf.tistory.com/image/9931B94A5AE2E9290FC86B
http://cfile26.uf.tistory.com/image/9906E04A5AE2E92A15E101
Deadlock's Stacking & Crating for Bob's materials
Tanks! and now also for Bob!! [Remake]
Flow Control for Bob's pipes [Remake]
Xagros's TUONELA Core
Reactor Interface
Useful equipment+ [Remake]
Armor Pockets

Useful equipment

Tesla Turret
Weapon Sounds Redone for bob's weapons
I'm going to add mods that have stopped developing. And some of the code was used with the permission of the original creator.
---
Credits [Thanks for your help]
Cordina
Deadlock989
GotLag
Kryzeth
LCruel
MrSilver2510
Muki
M.Cocko
Necriptos
psioniq
qumojo
usafphoenix
Zarnoo
Zombiee
---
Changelogs
Changelogs can be found in-game, in the mod list. Select this mod and then the Changelog button.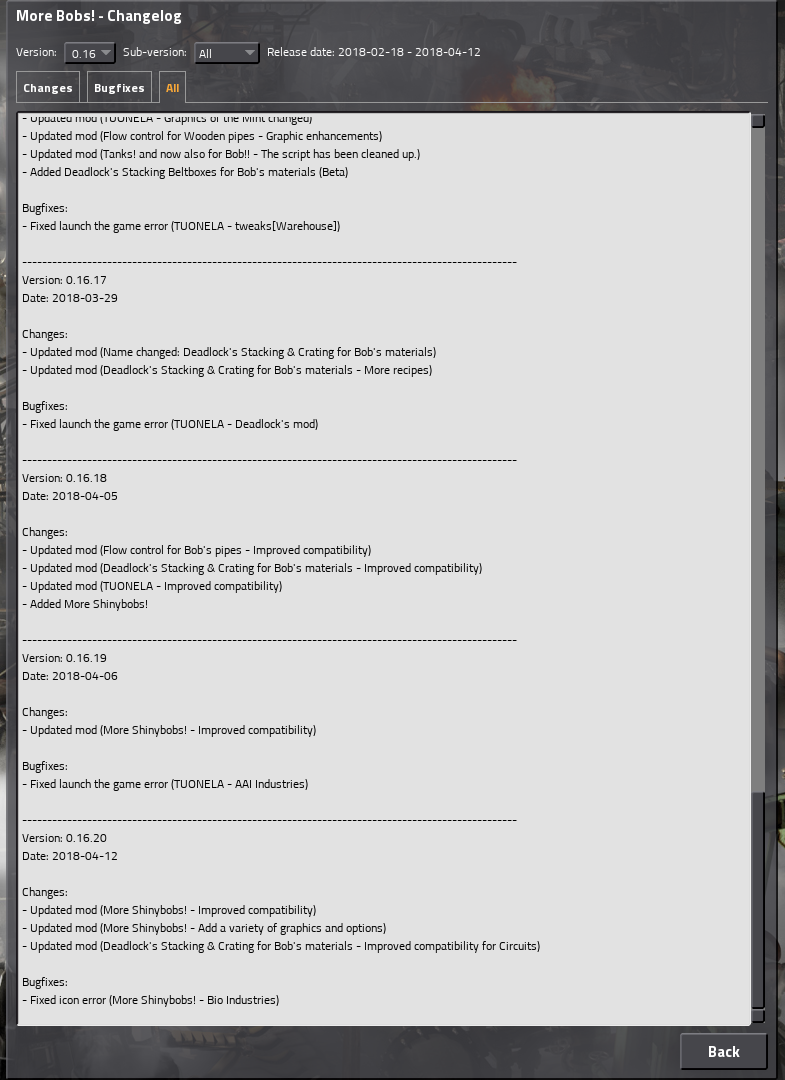 ---
Main Issue [Simple commentary]
Version: 0.16.27
Date: 2018-04-18
Fixed problems with Tesla Turret and improved compatibility with Endgame Combat mod.
Version: 0.16.28
Date: 2018-04-19
Corrected stock size errors and pipe errors due to crushing stones. In addition, Stacking&Crating items for Angel&Bob have been updated.
Version: 0.16.30
Date: 2018-04-27
MSB's orders have been improved with Bio Industries updates.
Version: 0.16.31
Date: 2018-04-30
One of the calculation functions has been changed. An error occurs in an existing saved game. Use it in new games.
Version: 0.16.32
Date: 2018-05-01
Tanks! and now also for Bob!!'s problems have been fixed.
Version: 0.16.33
Date: 2018-05-01
Temporarily rolls back the feature because it causes problems when used with Bob's Character classes.
Version: 0.16.35
Date: 2018-05-11
Prior to the update of Bio Industries, a temporary classification was carried out.
Version: 0.16.38
Date: 2018-05-13
The tech tree for Kryzeth's More Inserters + Menu Cleaner has been revamped. (Based on AAII and Bob's mod) - To use this feature, you need to enable the Tuonela option.
Version: 0.16.40
Date: 2018-05-19
Correctable parts of the problem were fixed. (AAI Programmable Vehicles(Miner tank and Tank teleporter), Bio Industries(Technologies, Orders, and Trigger) and etc.) And some features have been updated and optimized. (Repair capsule(Tanks! and now also for Bob!!), Mod file size reduction and etc.) Finally, from the next update, except for urgent updates! TUONELA's Mint will be utilized.
Version: 0.16.46
Date: 2018-06-01
Only bug fixes and compatibility work has been done. Work on the Mint is ongoing, but it has not finished yet.
Version: 0.16.47
Date: 2018-06-13
Updated functionality to take advantage of the Mint!
Now, when dealing with enemies, you can meet Markets with a random chance. Additional items, supply boxes, get items randomly when you use it. And fixed a tank teleporter problem when there was no Bob class mod. For other things, check the changelog.
---
Mod settings
There are in-game settings to change the mod setting (Options -> Mod settings)
For descriptions hover over the names